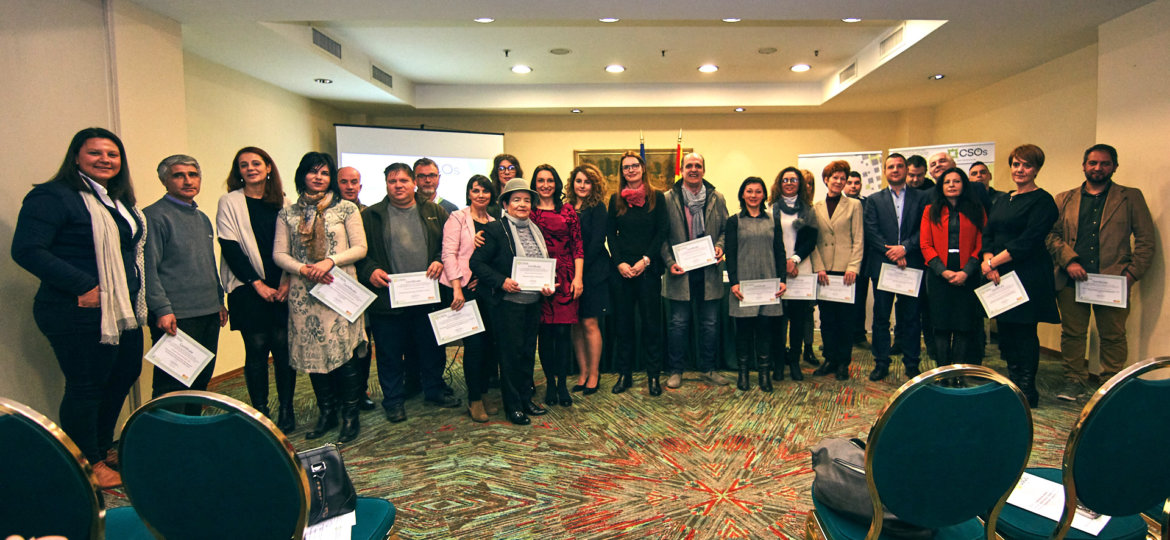 Civil Organizations Will Receive EU Support To Face Their Challenges
31.01.2018, Skopje – 20 civil organizations from Macedonia received support from the European Union by signing the contracting agreements through the PREDA Plus – Small Grants Program and the German organization ASB, within the project " Improving the Macedonian CSO's active participation in decision-making process through the empowerment of grass-root CSO's " The approved grants and projects will be implemented throughout Macedonia.
The Small Grants Program, with the slogan "Activate", was released last year. This program was launched by PREDA Plus Foundation and the German organization ASB with support from the European Union and their instruments for pre-accession assistance.
The main purpose of small grants is to strengthen the capacities of civil society organizations and to provoke change or solution to some economic or social problem in the society. The action model and its choice whether it is most appropriate to be through a partnership with local or central government, lobbying / dissemination to the authorities or overseeing their work remains asa matter of choice of the civil society organizations themselves.
Listed below are the grantees:
Coalition of Youth Organizations SEGA, Prilep
Association for Culture and Development of the Creative Industries KULT TRANZEN, Strumica
Association for Voluntary Firefighting ZORA, Kicevo
Association Multikultura, Tetovo
Association for Development of Civil Education and Civil Society GANIMED, Bitola
Humanitarian Association for Help and Support of the People with Special Needs BRAVURA KOOPERATIVA, Delcevo
Environmental Association PLANETUM, Strumica
Center for Cultural Decontamination, Bitola
Association of Citizens for Promotion of Art Craftsmanship and Handcrafting MATA, Skopje
Association Civil Center for Sustainable Development EGRI, Kriva Palanka
Association Center for Sustainable Community Development, Debar
Association Regional Advocacy Center, Delcevo
Citizen Association for Democratic Development INITIATIVE FOR EUROPEAN PERSPECTIVE, Skopje
Association Young Farmers Network – YFN s.Meseista, Debarca
Association CREATIVE CENTER- RURBANKULT, Struga
Association for Promotion of Equal Opportunities for All WORLD FOR ALL, Skopje
Association of Citizens Center for Research and Analysis NOVUS, Strumica
Macedonian Association of METAL AND ELECTRICAL INDUSTRY MAMEI, Skopje
Organization of Women VIZIJA, Kavadarci
Association for Citizen Movement for Sustainable Socioeconomic Development GLOBAL, Bitola
Areas of action
The largest number of organizations are in the following areas:
– Education and research – 27%
– Health and social work and humanitarian work – 21%
– Culture / art – 18%