Our Story begins in 2000…
The Swiss SME (small and medium-sized entreprise) support project PREDA since 2000 has considerably evolved in 2007 in a locally anchored and owned Regional Agency for Economic Development, Pelagonia-PREDA.
Having its roots and experience in private sector development, Pelagonia-PREDA was recognized as a stabile partner of its funders, the nine Pelagonia region municipalities in their efforts for regional development and inter-municipal cooperation.
In 2010 the organization grew and transformed itself into new Foundation for Sustainable Economic Development – PREDA Plus. The aim was to provide continuity of a decade of investments in institutional and human capital development.
Moreover, in 2013 the gained unique experience in Macedonia was offered in Kosovo through implementation of tourism project, TourTaste. In 2015, PREDA Plus Kosovo was established as a step towards our goal to contribute in development process of Western Balkan countries.
At the moment the Foundation for Sustainable Economic Development – PREDA Plus experiences rapid growth process in terms of team members, turnover, geographical outreach and international operations in both countries.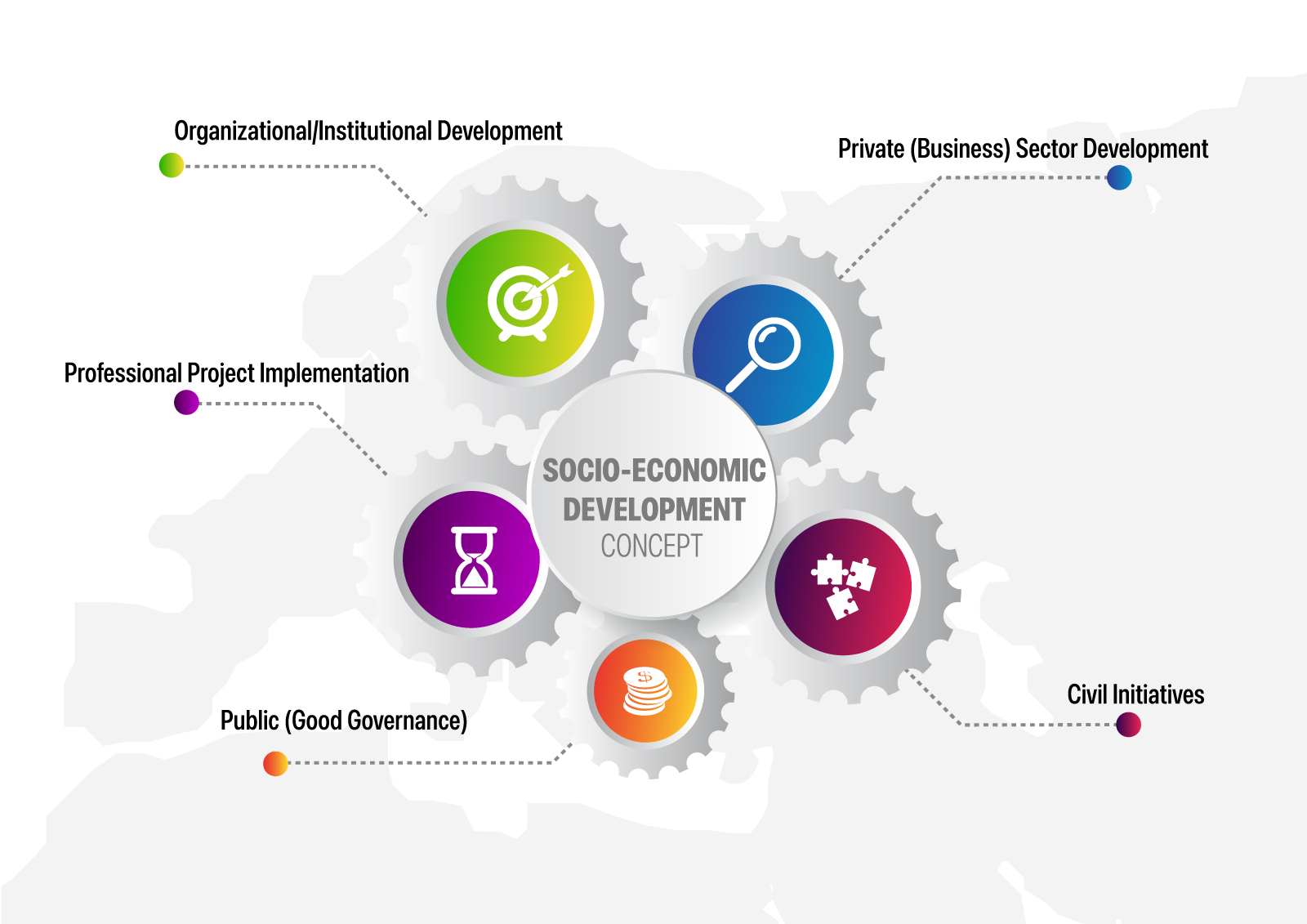 PREDA Plus is providing the following services
Continuous improvement of development processes and promotion of unique models for sustainable development.
Promotion of good governance through strategic planning and implementation, respecting the principles of transparency and participation
Professional project and grant management
Distinctive models for Business Sector Development
Organizational/institutional development
Socio-economic development
PREDA is a promoter of sustainable economic development and social prosperity through facilitation of public, private and civil initiatives, on local/regional level in Macedonia and the Balkans.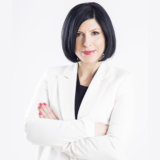 Vesna Ivanoska
Seavus Education and Development Center
Director
"We are especially pleased that the IME programme and PREDA Plus have quickly recognized the innovative and revolutionary approach of the Business Simulator project, and become even more committed and more flexible in its implementation. Specifically, the technical support that we have received from the IME Programme / PREDA Plus addressed the most complex process, the development and the adaptation of the methodology for the development of the Business Simulator itself.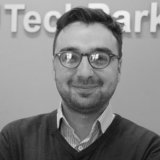 Gjorgi Rafajlovski
SEEU Tech Park
Chief Operating Officer
"The excellent cooperation that we had throughout 2017 with PREDA Plus team has been important for SEEU Tech Park in several fields: speeding up the dynamics of introducing the new services, support from international experts, networking with technology businesses and consultants from Macedonia and abroad, as well as enormous mentoring assistance in numerous workshops and events shared with start-up community. IME's activities have repeatedly accelerated the processes and time for implementation. On the other hand, with the Company Valuation and Mapping the Macedonian Digital Start-Up Ecosystem we have already laid the foundations for future technologies for the Technology Park: creation of Pre-Seed Equity Investment Fund and IP Office.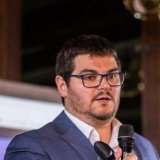 Igor Izotov
Innovation and management consultant
Startup Mentor
"Leading the mentorship team of the first two cohorts of startups from the "И до Битола се може" acceleration program was a dream. Working with proven professionals from PredaPlus enabled me to give additional value to the program and to the startups and the much needed boost in the local economy of Bitola.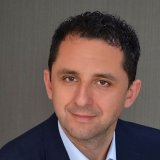 Igor Andreev
X Factor Accelerator, Veles
Co-Founder
"I am very happy that with the Foundation PREDA Plus from Bitola, we have successfully realized the Veles edition of their unique product ""И од Битола се може(и)" ( You can do it from Bitola).  With joint commitment, we have shown that you can do it from anywhere in Macedonia. From Bitola, and from Veles too.  I am especially proud that within the project we organized the first networking event in Veles, as well as the first online Demo day supported with the platform of the Macedonian startup Vidict, showing that challenges and treats caused by COVID crisis could be turn into huge opportunity. With realization of joint pre-acceleration program, X Factor Accelerator was able to make a decision to invest 100,000 euros in Matrioshka, startup, with an extremely attractive and innovative product (wine ice cream) that has global potential for rapid growth. I sincerely believe that with the team of Preda Plus we will implement a number of other joint projects, spreading entrepreneurial optimism beyond Skopje. The synergy we have achieved through cooperation is a sufficient guarantee for this.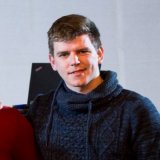 Aleksandar Popov
Student at faculty of ICT
Hacker
"PREDA Plus Foundatin was an eye-opener! That you can start individual project without having secured the real financial resources from the first start. Their mentorship canalized my thoughts, up to that moment, I had a chaos in my head where and how to start. The feeling is real if you are from the IT sector and your intellectual potential is focused on problem solution from that topic, instead of accommodating it in a business model.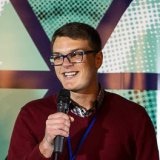 Dimitar Mitrevski
Student at faculty of ICT
Entrepreneur
" This was form me experience that I gained for the first time in life and it was free of charge! Maybe I was skeptical that this will be one more workshop ina raw that is good to be present at, without major experiences. But, PREDA Plus Foudation has proven me the opposite, our team Bintern got in as listeners and got out as winners, getting the highest scores from the juries. This is a sign that the training process was well-planied and Izotov was the guru of stimulating creative thinking. He got maximum from us and it is reaity that we were not prepared for this.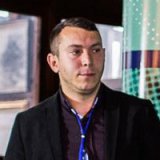 Vladimir Petrov
Graduated Economist
Marketing Manager
"The trainings that were provided by PREDA Plus Foundation helped me see the big picture of the project that we were developing with Bintern team. Nevertheless, the most important aspect to be part of this group was the networking. We met persons from different backgrounds that shared with us their experiences. I see that many of these contacts will be of crucial importance for the future of this project. Practically, PREDA Plus Foundation built us a network of experts for various topics in one place. For this we are particulary grateful.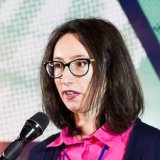 Alisija Kolevska
Graduated Psychologist
Psychologist
"I'm a psychologist! I've never thought that I could develop and run a business with my profession without having already established name in the profession. I applied in the PREDA Plus programme to gain some skills that will help me to apply for a job easier. However, instead of that I somehow witnessed a miracle, through the process of EMPLOYOUTH program, I was encouraged to think that I could put my profession on a business platform and mace an income. The steps are small but very important to me.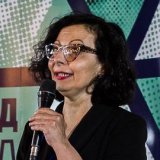 Elizabeta Ivanoska Tasevska
Teacher
"Since I have been in the field of education for many years, I thought that nothing could surprise related with a business with foreign languages, especially taking in consideration my long-term experience in that field. Through the mentorship and training of PREDA Plus Foundation I have found that I am stuck in some old movie of understanding business and that the new erta requires continuous education. Their coachest motivated me, made me think outside the box and meade me believe that a fresh start is possible.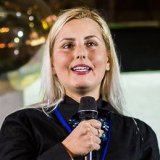 Klimentina Mitrevska
Graduated Nutritionist
Nutritionist
"If anyone thinks of her/himself as being multi-talented, that is probably me.. The question was what to do with all my talents? PREDA Plus gave me the answer. I can be a spiritus movens in a new movement ina media space – Eat helthy, be healthy… to educate tV viewers on the importance of healthy eateing, sports, and life threatening. Through the process of developing of the business idea my mentors and coaches from PREDA Plus helped me to gill my gapes in knowledge and skills and motivate me to be more confident and to succeed. In addition, they have helped to anticipate  the risk, showing me the realistic market situation and encourage me to make a solid market research before establishing my business idea. Whole program was awakening moment to me, and thrugh me, to lot of people who are looking for a healthy lifestyle. I am very grateful for this program that changed my life.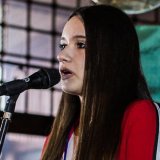 Elena Bojadzieva
Student
"I am only 15 years old, but I have an environmental idea that could be transformed into business. While my peers were spending time on selfies on social media, with the help of my mother I have applied to the EMPLOYOUTH program and I was part of a processin which a child like me could dream a nosiness dream. It was very useful but also fun. I have met many people who, though older than me, trated me as an adult. I enjoyed every moment of the mentorship and training programme. I know that I will succeed and that one day I will be a "recycle bin" in each home in each home in Bitola.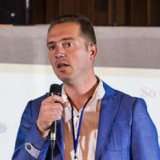 Nikolce Anakievski
"My idea for starting my own business came out from necessity my son to consume organic food in order to prevent all allergy problems he has been going through. In the process of thinking about y entrance into entrepreneurship, PREDA Plus played a role of true catalyist of my ideas, right on time. I was wandering through many institutions looking for any kind of information but I faced discouragement instead of motivation and encouragement. PREDA Plus in a quick and practical manner succeeded to be a revelation for me, enabling me to see the whole picture. I addressed specific questions regarding the development of my business and their network of experts provided concrete solutions that greatl facilitated the whole process of developing a business plan making me a proactive player in my life adventure.

Geographic outreach (municipalities)