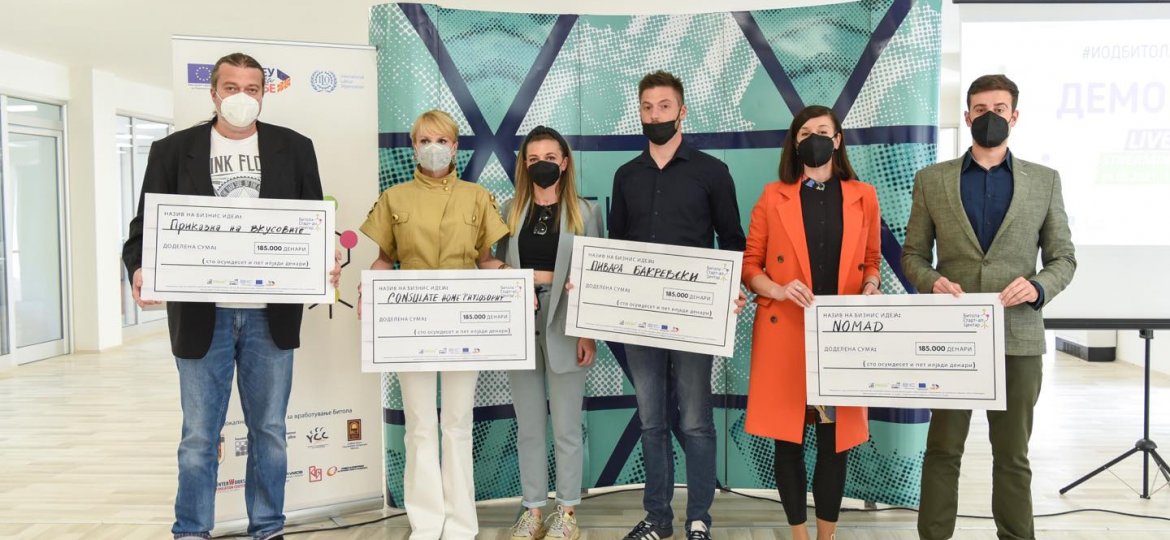 DEMO DAY – the official final event of the fourth generation of startup program of PREDA plus was held in may in the premises of Bitola startup Center. The event is crown of the two-month intensive work with the selected business ideas and the beginning of 10 new successful start-up stories in this region.
In a series of 5 minute presentations, in front of the life audience and through livestream, 10 most successful business ideas from the program  presented their business ideas and compete for grant of 185.000 denars.
Through this program, 20 teams developed their business ideas spending several weeks in intensive work with the help of mentors and coaches. Or translated into numbers: 200 hours of mentoring, 36 hours of training, 100 hours of joint sessions and online lectures on the zoom platform that brings up to 336 hours of total mentoring and support.
The best 4 start-up ideas received a grant of 185,000 denars each, according to the evaluation done by a team of judges: Katerina Trajkovska-financial manager of PREDA Plus Foundation,  Nikola Joshevski-General director of  "SN Finance" and  Dimce Popovski owner of DAKA Holding.
Here are the awarded start-up projects:
🔺BAK Brewery – the first craft brewery in Bitola by the applicant Marjan Bakrevski
🔺NOMAD creative studio – Ana Sekulovska,
🔺CONSULATE home philosophy – by Maja Nasteska and Zorica Karanfilovska
🔺APPETITE world of tastes – business idea of Zoran Vidanovic
The startup program is implemented within Bitola start-up Center -part of the Local Employment Partnership (LPV) Bitola supported through the project Strengthening Social Dialogue, implemented by the International Labor Organization, financed by EU
#Predaplus #BitolaStartUp #IodBitolaSeMozi