Institutional Grant Civica Mobilitas 2012

LOCATION
NORTHEAST PLANNING REGION, MACEDONIA
TOPIC
LOCAL / REGIONAL ECONOMIC DEVELOPMENT
01.01.2013 – 31.12.2013
(12 months)
THE CHALLENGE
Further needed support to PREDA Plus as a newly established Foundation to reinforce its strengths and confirm its sustainability.
THE SOLUTION
The institutional grant awarded was used to launch new services, strengthen existing programmes and gain needed competences on the market in the following areas:
Regional Competitiveness
Small Business expansion programme
Youth exchange programme.
South East Europe Network of Regional Development Agencies – SEENORDA
Institutional development of PREDA Plus.
THE IMPACT
Institutional development of the Center for Development of the North Eastern region in Macedonia (introduction of Quality Management System ISO 9001:2008, mainstreaming principles for good governance), improvement of the skills on regional development in regards to territorial diagnosis Network building through promotion of public – private partnerships to enhance youth employment and youth entrepreneurship.
Vertical integration in value chains and development Local Economic Development strategies
25 Young Macedonians succeeded to widen horizons of young people through exchange programme on socio-cultural life and work habits in Western European countries
Institutionalization initiative for SEENORDA as a network of all regional development stakeholders in South Eastern Europe.
Service portfolio of PREDA Plus in regards to sponsorships and donations from business sector and corporate social responsibility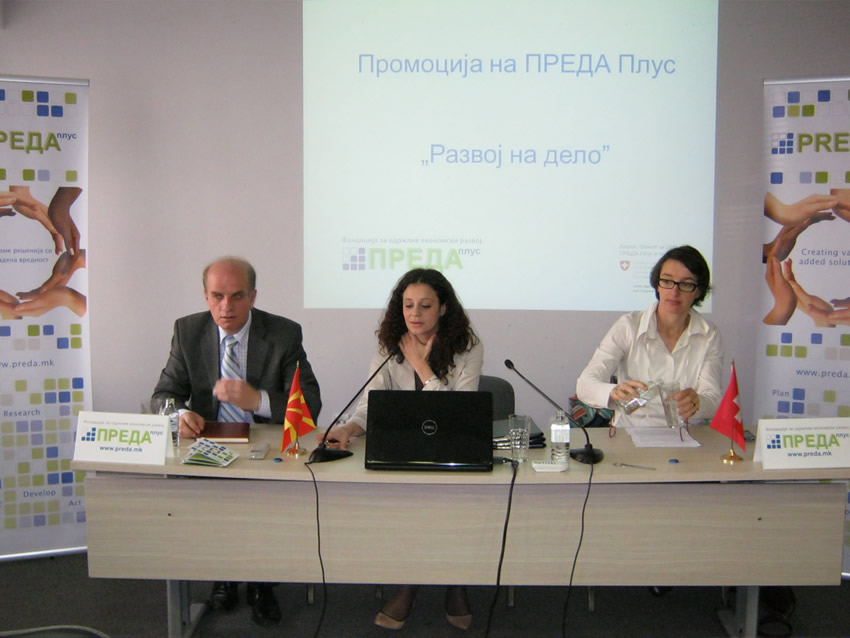 Funding:
MKD 979,550
Donator
The Programme was implemented by the Center for Institutional Development CIRa and financed by Swiss Agency for Development and Cooperation